abscissa
(redirected from abscissae)
Also found in:
Dictionary
,
Thesaurus
,
Medical
.
abscissa:
see Cartesian coordinatesCartesian coordinates
[for René Descartes], system for representing the relative positions of points in a plane or in space. In a plane, the point P is specified by the pair of numbers (x,y
.....

Click the link for more information.

.
abscissa
[

ab′sis·ə

]

(mathematics)

One of the coordinates of a two-dimensional coordinate system, usually the horizontal coordinate, denoted by x.
abscissa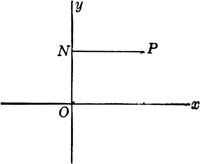 In the plane Cartesian coordinate system, the horizontal coordinate of a point on a plane; the x-coordinate, obtained by measuring the distance from the point to the y-axis along a line parallel to the x-axis.
abscissa
the horizontal or x-coordinate of a point in a two-dimensional system of Cartesian coordinates. It is the distance from the y-axis measured parallel to the x-axis
abscissa
(mathematics)

The horizontal or x coordinate on an (x, y) graph; the input of a function against which the output is plotted.

The vertical or y coordinate is the "

ordinate

".

See

Cartesian coordinates

.