ABI
(redirected from absolute benefit increase)
Also found in:
Medical
.
Abi
(ā`bī)

[short for AbijahAbijah
, in the Bible. 1 See Abi. 2 Died c.911 B.C., king (c.914–c.911 B.C.) of Judah, the southern kingdom. He succeeded his father, Rehoboam, and King Jeroboam continued warfare against him.
.....

Click the link for more information.

], in the Bible, King Hezekiah's mother.
ABI
(Application Binary Interface) A specification for a specific hardware platform combined with the operating system. It is one step beyond the application program interface (API), which defines the calls from the application to the operating system. The ABI defines the API plus the machine language for a particular CPU family. An API does not ensure runtime compatibility, but an ABI does, because it defines the machine format. See API.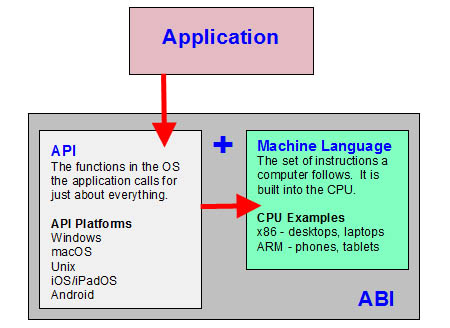 ABI and API Relationship