aerodynamic balance
aerodynamic balance
[

'e·ro·dī′nam·ik ′bal·əns

]

(engineering)

A balance used for the measurement of the forces exerted on the surfaces of instruments exposed to flowing air; frequently used in tests made on models in wind tunnels.

McGraw-Hill Dictionary of Scientific & Technical Terms, 6E, Copyright © 2003 by The McGraw-Hill Companies, Inc.
aerodynamic balance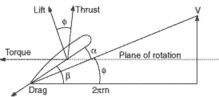 i
. A means of reducing the hinge movement and thereby the physical effort needed to control an aircraft. If control surfaces were hinged at their leading edge and allowed to trail from this position in flight, the forces required to change the angle on all except light and slow aircraft would be prohibitive. Some form of aerodynamic balancing is required to assist the pilot to move controls easily in the absence of power-assisted controls. The most common forms of aerodynamic balancing are inset hinges, horn balances, internal balances, and tab balances.
ii
. In the case of propellers, they are aerodynamically balanced when the resultant aerodynamic action on the blade comprises only thrust along the axis of rotation and a torque about that axis.
An Illustrated Dictionary of Aviation Copyright © 2005 by The McGraw-Hill Companies, Inc. All rights reserved