aftereffect
Also found in:
Dictionary
,
Thesaurus
,
Medical
,
Wikipedia
.
aftereffect
1. Med any delayed response to a stimulus or agent
2. Psychol any illusory sensation caused by a stimulus that has ceased
Collins Discovery Encyclopedia, 1st edition © HarperCollins Publishers 2005
The following article is from The Great Soviet Encyclopedia (1979). It might be outdated or ideologically biased.
Aftereffect
the change in the state of strain of a solid in a constant stressed state. A simple case of the aftereffect can be observed in a cylindrical specimen acted on by a constant tensile force P, as illustrated in Figure 1. With time, the strain in the rod increases, (curve ab), and in the general case there is an increase in both the elastic and the plastic deformation. This phenomenon is called the direct aftereffect. The increase in elastic deformation is a manifestation of the elastic aftereffect, and the increase in plastic deformation indicates creep. If at some moment t1 the load is removed, the specimen is immediately shortened to the extent of the elastic deformation (bd), and then a slow contraction of the specimen with time (de)—the reverse aftereffect—is observed.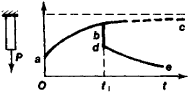 The elastic aftereffect without creep is observed in solids whose stressed state nowhere exceeds the elastic limit, and it is classified as a slow reversible process. The elastic aftereffect is usually due to the nonuniformity of the elastically stressed state of actual solids and to the tendency of the stressed state to equalization. The aftereffect explains the phenomenon of elastic hysteresis. For metals, the elastic aftereffect is small, but in organic substances—such as leather, textile fibers, and plastics—it can be of considerable magnitude.
The plastic aftereffect in materials, or creep, is associated with a substantial change in the molecular or crystalline structure of materials and ultimately is a consequence of atomic rearrangements. Aftereffects are investigated in rheology.
The Great Soviet Encyclopedia, 3rd Edition (1970-1979). © 2010 The Gale Group, Inc. All rights reserved.