agora
(redirected from agorae)
Also found in:
Dictionary
,
Thesaurus
,
Financial
.
agora
(ăg`ərə)

[Gr.,=market], in ancient Greece, the public square or marketplace of a city. In early Greek history the agora was primarily used as a place for public assembly; later it functioned mainly as a center of commerce. Usually in a readily accessible part of the city, it was often surrounded by the public buildings, such as the royal palace, the law courts, the assembly house, and the jail. A favorite architectural device was the colonnade surrounding the agora. One of the highest honors was to be granted a tomb in the agora. The agora was similar to the Roman forumforum,
market and meeting place in ancient Roman towns in Italy and later in the provinces, corresponding to the Greek agora. By extension the word forum often indicates the meeting itself in modern usage.
.....

Click the link for more information.

.

The Columbia Electronic Encyclopedia™ Copyright © 2013, Columbia University Press. Licensed from Columbia University Press. All rights reserved.

www.cc.columbia.edu/cu/cup/
Agora
An open public meeting place for assembly surrounded by public buildings, or a marketplace in an ancient Greek city; the Roman forum is a typical example.
Illustrated Dictionary of Architecture Copyright © 2012, 2002, 1998 by The McGraw-Hill Companies, Inc. All rights reserved
agora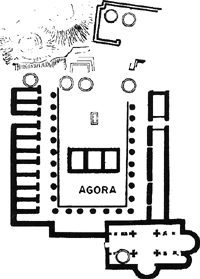 The chief meeting place or marketplace in an ancient Greek city.
McGraw-Hill Dictionary of Architecture and Construction. Copyright © 2003 by McGraw-Hill Companies, Inc.
AGORA
(language)

This article is provided by FOLDOC - Free Online Dictionary of Computing (foldoc.org)