agora
(redirected from agorot)
Also found in:
Dictionary
,
Thesaurus
,
Financial
.
agora
agora
(ăgˈərə)
[Gr.,=market], in ancient Greece, the public square or marketplace of a city. In early Greek history the agora was primarily used as a place for public assembly; later it functioned mainly as a center of commerce. Usually in a readily accessible part of the city, it was often surrounded by the public buildings, such as the royal palace, the law courts, the assembly house, and the jail. A favorite architectural device was the colonnade surrounding the agora. One of the highest honors was to be granted a tomb in the agora. The agora was similar to the Roman
forum
.
The Columbia Electronic Encyclopedia™ Copyright © 2022, Columbia University Press. Licensed from Columbia University Press. All rights reserved.
Agora
An open public meeting place for assembly surrounded by public buildings, or a marketplace in an ancient Greek city; the Roman forum is a typical example.
Illustrated Dictionary of Architecture Copyright © 2012, 2002, 1998 by The McGraw-Hill Companies, Inc. All rights reserved
agora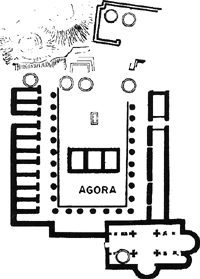 The chief meeting place or marketplace in an ancient Greek city.
McGraw-Hill Dictionary of Architecture and Construction. Copyright © 2003 by McGraw-Hill Companies, Inc.
AGORA
(language)

This article is provided by FOLDOC - Free Online Dictionary of Computing (foldoc.org)