air navigation facility
Also found in:
Dictionary
.
air navigation facility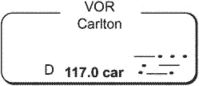 Any facility used, available for use, or designed for use as an aid to air navigation, including landing areas; lights; any apparatus or equipment for disseminating weather information, signaling, radio–direction finding, or radio or other electronic communications; and any other structure or mechanism having a similar purpose for guiding and controlling flights in the air, landing, or taking off. The availability of air navigational facilities is indicated by a shadow box on aeronautical charts as shown in the illustration. Also called
NAVAID
or
navaid
.
An Illustrated Dictionary of Aviation Copyright © 2005 by The McGraw-Hill Companies, Inc. All rights reserved