air-lift pump
Also found in:
Dictionary
.
air-lift pump
[

′er'lift ′pəmp

]

(mechanical engineering)

A device composed of two pipes, one inside the other, used to extract water from a well; the lower end of the pipes is submerged, and air is delivered through the inner pipe to form a mixture of air and water which rises in the outer pipe above the water in the well; also used to move corrosive liquids, mill tailings, and sand. Also known as air lift.
air-lift pump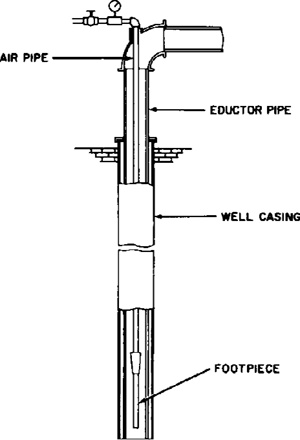 A type of pump for raising water from a well, consisting of a pipe which surrounds another of smaller diameter; compressed air is injected into the smaller pipe, causing water to rise up the larger pipe.