airport classification
airport classification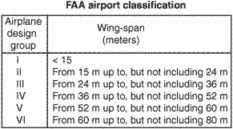 An Illustrated Dictionary of Aviation Copyright © 2005 by The McGraw-Hill Companies, Inc. All rights reserved
References in periodicals archive
?
In the literature some studies dealt with
airport classification
to select categories with comparable passenger terminal systems [6], to examine alternative slot allocation strategies [7] or operational efficiency [8], to study the evolution of the European aviation network [9], to identify strategic groups sharing common attributes/roles, or to identify airport rankings [10, 11].
The
airport classification
is obtained by identifying if and how much the fuzzy set A--unclassified airport--belongs to the fuzzy set B representing a reference category of airports.