airport classification
airport classification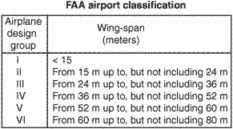 References in periodicals archive
?
Christy has been instrumental in the development of the Wyoming
airport classification
system, the Priority Rating Model for Wyoming airports, the original and ongoing development of the Wyoming Aviation Capital Improvement Program as well as many statewide system planning efforts for Wyoming, Aeronautics Administrator Amy Surdam said.
In the literature some studies dealt with
airport classification
to select categories with comparable passenger terminal systems [6], to examine alternative slot allocation strategies [7] or operational efficiency [8], to study the evolution of the European aviation network [9], to identify strategic groups sharing common attributes/roles, or to identify airport rankings [10, 11].
The
airport classification
is obtained by identifying if and how much the fuzzy set A--unclassified airport--belongs to the fuzzy set B representing a reference category of airports.
Data collection,
airport classification
, and forecasting.