Inulin
(redirected from alant starch)
Also found in:
Dictionary
,
Thesaurus
,
Medical
.
inulin
[

′in·yə·lən

]

(biochemistry)

A polysaccharide made up of polymerized fructofuranose units.

McGraw-Hill Dictionary of Scientific & Technical Terms, 6E, Copyright © 2003 by The McGraw-Hill Companies, Inc.
The following article is from The Great Soviet Encyclopedia (1979). It might be outdated or ideologically biased.
Inulin
(C6H10O5), an organic substance of the polysaccharide group, a D-fructose polymer. It is a white powder, readily soluble in hot water and poorly soluble in cold. Sweet-tasting, it has a molecular weight of 5,000–6,000. Its structural formula is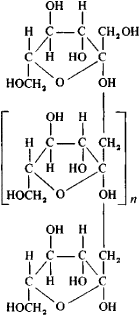 During hydrolysis, inulin forms D-fructose and a small quantity of glucose in the presence of acids and the enzyme inulase. Inulin and the intermediate products of its fermentative decomposition, that is, inulides, do not have reducing properties. An inulin molecule comprises a chain of 30–36 fructose radicals in furanose form. Like starch, inulin serves as a reserve carbohydrate and occurs in many plants, primarily in the family Compositae as well as in the families Campanulaceae, Liliaceae, Lobeliaceae, and Violaceae. The inulin content reaches 10–12 percent in the tubers and roots of the dahlia, narcissus, hyacinth, tuberose, chicory, and Jerusalem artichoke. Related carbohydrates (pseudoinulin, inulenin, levulin, helianthin, sinistrin, irisin) are nearly always found with inulin in plants; these carbohydrates yield D-fructose upon hydrolysis as does inulin.
Inulin is extracted from chicory or from the Jerusalem artichoke. It is readily assimilated by the human body and is there fore used in medicine as a starch and sugar substitute in diabetes mellitus. Inulin also serves as the starting material for the commercial preparation of fructose.
The Great Soviet Encyclopedia, 3rd Edition (1970-1979). © 2010 The Gale Group, Inc. All rights reserved.