alpha
(redirected from alpha-blocking agent)
Also found in:
Dictionary
,
Thesaurus
,
Medical
,
Financial
.
alpha
1. the first letter in the Greek alphabet (Α, α), a vowel transliterated as a
2. Brit the highest grade or mark, as in an examination
3.
a. involving or relating to helium-4 nuclei
b. relating to one of two or more allotropes or crystal structures of a solid
c. relating to one of two or more isomeric forms of a chemical compound, esp one in which a group is attached to the carbon atom to which the principal group is attached
Collins Discovery Encyclopedia, 1st edition © HarperCollins Publishers 2005
alpha
(al -fă) (

α

)

1.

The first letter of the Greek alphabet, used in

stellar nomenclature

usually to designate the brightest star in a constellation or sometimes to indicate a star's position in a group.

2. Symbol for right ascension.

Collins Dictionary of Astronomy © Market House Books Ltd, 2006
alpha
[

′al·fə

]

(electronics)

The ratio between the change in collector current and the change in emitter current of a transistor.

(science and technology)

The first letter in the Greek alphabet: α, A.

McGraw-Hill Dictionary of Scientific & Technical Terms, 6E, Copyright © 2003 by The McGraw-Hill Companies, Inc.
ALPHA
(language)

(Or "Input") An extension of

ALGOL 60

for the M-20 computer developed by A.P. Ershov at Novosibirsk in 1961. ALPHA includes

matrix

operations, slices, and complex arithmetic.

["The Alpha Automatic Programming System", A.P. Ershov ed., A-P 1971].
Alpha
(2)

1. <tool> A compiler generator written by Andreas Koschinsky <koschins@cs.tu-berlin.de> and described in his thesis at the Technische Universitaet Berlin. Alpha takes an attribute grammar and uses

Bison

and

Flex

to generate a

parser

, a

scanner

and an ASE evaluator (Jazayeri and Walter).

The documentation is in german.

This article is provided by FOLDOC - Free Online Dictionary of Computing (foldoc.org)
Alpha
(1) See WolframAlpha.

(2) A family of RISC-based, 64-bit CPUs and computer systems from HP. Originally developed by Digital, which was acquired by Compaq and then HP, the first model introduced in early 1992 was the 150 MHz 21064-AA, considered equivalent to a Cray-1 on a single chip. Subsequent Alpha models continued to blaze the trails for high-speed microprocessors. Alpha-based servers (AlphaServers) run under Tru64 Unix and OpenVMS. In the mid-1990s, Windows NT was ported to the Alpha platform, but support was later dropped.

Alpha Went to Intel
In 2001, Compaq sold all Alpha intellectual property to Intel and announced it would switch its high-end servers to Intel's Itanium processors by 2004. HP acquired Compaq in 2002 and introduced enhanced AlphaServers. Orders were accepted for the new machines until April 2007, and support and service were promised until 2012.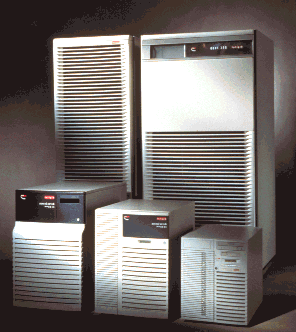 Alpha Models
Shown here are a number of Alpha servers from low to high end. The Alpha chips are always pushing the envelope in performance and architecture. (Image courtesy of Compaq Computer Corporation.)
Copyright © 1981-2019 by The Computer Language Company Inc. All Rights reserved. THIS DEFINITION IS FOR PERSONAL USE ONLY. All other reproduction is strictly prohibited without permission from the publisher.