altimeter
Also found in:
Dictionary
,
Thesaurus
,
Acronyms
,
Wikipedia
.
altimeter
altimeter
(ăltĭmˈĭtər, ălˈtĭmēˌtər)
, device for measuring altitude. The most common type is an aneroid
barometer
calibrated to show the drop in atmospheric pressure in terms of linear elevation as an airplane, balloon, or mountain climber rises. It shows height above sea level, but not above such land features as hills, mountains, and valleys. The radio altimeter, or terrain-clearance indicator, is an absolute altimeter; it indicates the actual altitude over water or over terrain, however uneven. It operates by first sending either continuous or pulse radio signals from a transmitter in an aircraft to the earth's surface. A receiver in the aircraft then picks up the reflection of the signals from the surface. The time it takes for the signals to travel to the earth and back is converted automatically into absolute altitude that can then be read from a calibrated indicator. The radio altimeter is used in the automatic landing systems of aerospace vehicles; systems developed from radio altimeters can automatically control military aircraft flying at high speeds and low altitudes.
The Columbia Electronic Encyclopedia™ Copyright © 2022, Columbia University Press. Licensed from Columbia University Press. All rights reserved.
altimeter
[

al′tim·əd·ər

]

(engineering)

An instrument which determines the altitude of an object with respect to a fixed level, such as sea level; there are two common types: the aneroid altimeter and the radio altimeter.

McGraw-Hill Dictionary of Scientific & Technical Terms, 6E, Copyright © 2003 by The McGraw-Hill Companies, Inc.
altimeter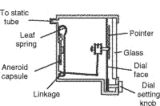 An instrument to indicate the height of an aircraft above a predetermined datum, normally sea level. Specifically, an instrument similar to an aneroid barometer that utilizes the change of atmospheric pressure with altitude to indicate the approximate elevation above a given point or plane used as a reference. A simple pressure
altimeter is an airtight metal case, the interior of which is kept at atmospheric pressure by a tube connecting it to the static tube of the ASI (airspeed indicator). Inside the instrument case, a partially evacuated aneroid capsule is secured at the center of one of its faces to a base rigidly fixed to the casing. A leaf spring prevents the collapse of the capsule. The capsule expands as aircraft gains height. The expansion of the capsule is converted into height through a system of gears. A pressure altimeter suffers from barometric, temperature, instrument, and lag errors. Radio or radar altimeters indicate heights above ground level.
An Illustrated Dictionary of Aviation Copyright © 2005 by The McGraw-Hill Companies, Inc. All rights reserved
altimeter
an instrument that indicates height above sea level, esp one based on an aneroid barometer and fitted to an aircraft
Collins Discovery Encyclopedia, 1st edition © HarperCollins Publishers 2005