altimeter setting
altimeter setting
[

al′tim·əd·ər 'sed·iŋ

]

(engineering)

The value of atmospheric pressure to which the scale of an aneroid altimeter is set; after United States practice, the pressure that will indicate airport elevation when the altimeter is 10 feet (3 meters) above the runway (approximately cockpit height).

McGraw-Hill Dictionary of Scientific & Technical Terms, 6E, Copyright © 2003 by The McGraw-Hill Companies, Inc.
altimeter setting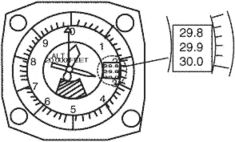 The station pressure corrected for the height of the station above sea level. When this pressure (
QNH
) is set in the altimeter window (also known as a
Kollsman window
, the altimeter indicates the height above mean sea level. The setting may be in inches, millibars, or hectopascals. See also
QNH
.
An Illustrated Dictionary of Aviation Copyright © 2005 by The McGraw-Hill Companies, Inc. All rights reserved