analog telephone adapter
(redirected from analog phone adapter)
analog telephone adapter
A device that adapts regular telephones to a broadband cable or DSL network for voice over IP (VoIP) service. Connecting to the cable or DSL modem, the analog telephone adapter (ATA) delivers dial-tone, manages the call setup and provides the conversion between digital IP packets and analog voice signals.

Combo Modem and Adapter
If the ATA and cable modem reside in one device, the combination unit is officially an "embedded multimedia terminal adapter" (E-MTA). However, it is commonly called a "VoIP modem" or "VoIP cable modem" or, if the service is from a telephone company, a "VoIP DSL modem" (see VoIP modem). See DSL, VoIP, softphone and analog telephone.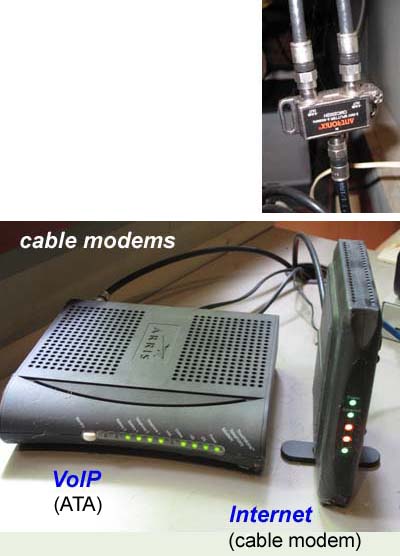 Cable Modems
These devices accept cable company signals. The coaxial cable line is split between the ATA and cable modem. The ATA is wired to analog telephones for voice, and the cable modem connects to the wireless router for data.