angle bracket
Also found in:
Dictionary
,
Thesaurus
,
Medical
,
Legal
,
Financial
,
Acronyms
.
angle bracket
[

′aŋ·gəl 'brak·ət

]

(architecture)

A bracket used in an angle or corner of a molded cornice.

(graphic arts)

Either of a pair of marks 〈〉 enclosing a mutilated passage or the explanation of an abbreviation in a text, or to enclose quotations or illustrations in a reference work. Also known as broken bracket; pointed bracket.
Angle bracket
A bracket at an inside corner of a cornice; usually presenting two perpendicular decorative sides.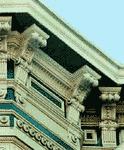 angle bracket
A projecting bracket which is not at right angles to the wall.
angle bracket
(character)

Either of the characters "<" (less-than,

ASCII

60) and ">" (greater-than, ASCII 62). Typographers in the

Real World

use angle brackets which are either taller and slimmer (the

ISO

"

Bra

" and "

Ket

" characters), or significantly smaller (single or double guillemets) than the less-than and greater-than signs.

See

broket

.