angle of lead
Also found in:
Dictionary
.
Related to angle of lead:
helix angle
,
Pressure angle
angle of lead
[

′aŋ·gəl əv ′lēd

]

(design engineering)
angle of lead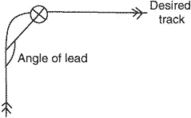 The angular allowance to be made for the turn so that the aircraft rolls out onto the track and does not overshoot it. The turn must commence before reaching the desired track. The greater the distance from the station, the lower is the angle of lead, provided the air speed remains constant.