angle of incidence
(redirected from angles of incidence)
Also found in:
Dictionary
,
Thesaurus
,
Medical
.
angle of incidence
[

′aŋ·gəl əv ′in·sə·dəns

]

(optics)

The angle formed by a ray arriving at a surface and the perpendicular to that surface at the point of arrival. Also known as incidence angle.
Angle of incidence
In terms of solar energy, the angle that the sun's rays make with an imaginary line perpendicular to a surface. The angle of incidence determines the intensity of the energy that any surface experiences.
angle of incidence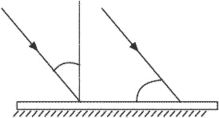 i
. The acute angle formed between the chord line of an airfoil and the longitudinal axis of the aircraft on which it is mounted. This is the angle at which the airfoil is attached to an aircraft fuselage when the aircraft is in rigging position. Unlike the
angle of attack
, the angle of incidence is a fixed entity.
ii
. The angle at which a ray of energy impinges upon a surface, usually measured between the direction of propagation of the energy and the perpendicular to the surface at the point of impingement, or incidence. In some cases involving radio waves, the angle of incidence is measured relative to the surface.