anthemion
Also found in:
Dictionary
.
anthemion
(ănthē`mēən)

, commonly called a palmette, a radiating, fan-shaped ornament or motif suggestive of a palm leaf or of honeysuckle and found in Egyptian, Assyrian, and Aegean art. It was widely used by the Greeks and Romans on their buildings and on many kinds of decorative objects.
anthemion, honeysuckle ornament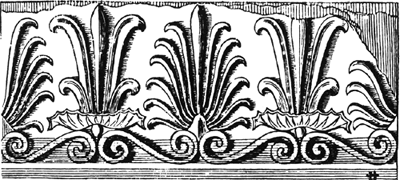 A common Greek ornament based upon the honeysuckle or palmette. Used singly on stelae or antefixes, or as a running ornament on friezes, etc.