anvil
Also found in:
Dictionary
,
Thesaurus
,
Medical
,
Idioms
,
Wikipedia
.
anvil
1. a heavy iron or steel block on which metals are hammered during forging
2. the fixed jaw of a measurement device against which the piece to be measured is held
3.
Anatomy
the nontechnical name for
incus
Anvil
a stationary, supporting blacksmith's tool, used in free manual forging. It is a massive cast steel piece with a polished working surface, usually secured to a wooden stand. Miniature anvils fastened to tables are used in instrument-making and watch production.
anvil
[

′an·vəl

]

(anatomy)

(engineering)

The part of a machine that absorbs the energy delivered by a sharp force or blow.

The stationary end of a micrometer caliper.

(metallurgy)

A heavy wrought-iron, cast-iron, or steel block upon which metal is hammered in smith forging.

The base of the hammer, holding the die bed and lower die part in drop forging.

(meteorology)
anvil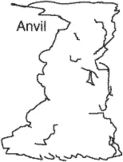 The flat, spreading top of a Cb (cumulonimbus), often shaped like an anvil. Thunderstorm anvils may spread hundreds of miles (or kilometers) downwind from the thunderstorm. Sometimes, they may spread upwind, and are called
back-sheared anvils
. Also called an
anvil cloud
.
ANVIL
A family of CADD/CAM software packages from MCS, Inc., Scottsdale, AZ (www.mcsaz.com). ANVIL products include 2D and 3D mechanical engineering systems for Windows. Founded in 1971, MCS was the first mechanical CAD company.