obstruction
(redirected from aortic obstruction)
Also found in:
Dictionary
,
Thesaurus
,
Medical
.
obstruction
Politics delay of business, esp in a legislature by means of procedural devices
Collins Discovery Encyclopedia, 1st edition © HarperCollins Publishers 2005
obstruction
[

əb′strək·shən

]

(medicine)

Occlusion or stenosis of hollow viscera, ducts, and vessels.

(navigation)

Anything that hinders or prevents movement, particularly anything that endangers or prevents passage of a vessel or aircraft; usually refers to an isolated danger to navigation, such as a submerged rock or pinnacle in the case of marine navigation, and a tower, tall building, mountain peak, and so forth, in the case of air navigation.

McGraw-Hill Dictionary of Scientific & Technical Terms, 6E, Copyright © 2003 by The McGraw-Hill Companies, Inc.
obstruction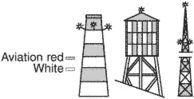 An existing object, object of natural growth, or terrain that is hazardous to an aircraft if the obstruction is on or near the runway or in the flight path. For purposes of certification, an object becomes an obstruction if its height is 35 ft (10.7 m) or 50 ft (15 m).
An Illustrated Dictionary of Aviation Copyright © 2005 by The McGraw-Hill Companies, Inc. All rights reserved