approach lights
Also found in:
Dictionary
.
approach lights
[

ə′prōch 'līts

]

(navigation)

A group of aeronautical lights indicating a desirable line of approach to a landing area.

McGraw-Hill Dictionary of Scientific & Technical Terms, 6E, Copyright © 2003 by The McGraw-Hill Companies, Inc.
approach lights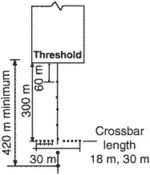 A system of high-intensity lights located along the approach path of an instrument runway. The lights radiate beams in a directional pattern by which a pilot aligns the aircraft with the extended centerline of the runway on the final approach for landing. They assist the pilot in transitioning from instrument flight conditions to visual conditions at the end of an instrument approach. These lights extend into the approach area up to a distance of 2400 to 3000 ft (730–900 m) for the precision instrument runway and 1400 to 1500 ft (420–450 m) for the non-precision runway.
An Illustrated Dictionary of Aviation Copyright © 2005 by The McGraw-Hill Companies, Inc. All rights reserved