arabesque
Also found in:
Dictionary
,
Thesaurus
,
Wikipedia
.
arabesque
(ărəbĕsk`)

[Fr.,=Arabian], in art, term applied to any complex, linear decoration based on flowing lines. In Islamic art it was often exploited to cover entire surfaces. The arabesque in modern usage derives from a Renaissance design which was Greco-Roman in inspiration.
Arabesque
Generic term for an intricate and subtle ornate surface decoration based on a mixture of intermixed geometrical patterns and natural botanical forms used in Muslim countries.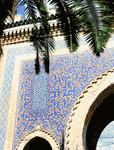 arabesque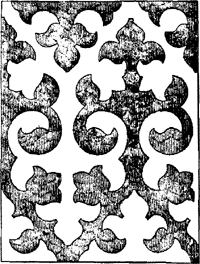 1. Intricate overall pattern of geometric forms or stylized plants used in Muslim countries.
2. Overall decorative pattern of acanthus scrolls, swags, candelabrum shafts, animal or human forms, on panels or pilasters, in Roman and Renaissance architecture.
3. A species of ornament of infinite variety used for enriching flat surfaces or moldings, either painted, inlaid, or carved in low relief.
arabesque
1. Ballet a classical position in which the dancer has one leg raised behind and both arms stretched out in one of several conventional poses
2. Music a piece or movement with a highly ornamented or decorated melody
3.
Arts
a. a type of curvilinear decoration in painting, metalwork, etc., with intricate intertwining leaf, flower, animal, or geometrical designs
b. a design of flowing lines
4. designating, of, or decorated in this style