arcade
(redirected from arcades)
Also found in:
Dictionary
,
Thesaurus
,
Medical
.
arcade
arcade, series of arches supported by columns or piers. An arcade may stand free; if it is attached to a wall it is called a wall arcade or a blind arcade. The earliest-known arcades were in Roman architecture, in which piers, ornamented with engaged columns carrying an entablature, formed the arch supports. However, in Diocletian's palace at Spalato there are arches supported by columns and resting directly upon their capitals, of the type that was given full development in Romanesque and Gothic architecture. In the early Christian basilica, columnar arcades separated the nave and side aisles and supported the wall of the clerestory. From this beginning the rich system of bays used in Romanesque and Gothic church interiors was developed, in which lofty arcades extended the full length of the nave. Both freestanding and blind arcades were used in Romanesque facades (notably in N Italy) and in the west fronts of English and French Gothic cathedrals, where the arches were often filled with statues of saints. Richly designed arcades surrounded the enclosed cloisters of the medieval and Renaissance monasteries; they were similarly used in the courts of houses in Italy and Spain and in the courtyards of Islamic mosques. The Romanesque structures of Spain, Sicily, and S Italy made frequent use of arcades composed of interlacing arches, in which the arch rings overlap to alternate columns or piers. Continuous arcades, extending over sidewalks, are common in Italian cities, notably in Bologna.
The Columbia Electronic Encyclopedia™ Copyright © 2022, Columbia University Press. Licensed from Columbia University Press. All rights reserved.
Arcade
A line of arches along one or both sides, supported by pillars or columns, either freestanding or attached to a building. Applies to a line of arches fronting shops, and covered with a steel and glass skylight usually running the length of the arcade.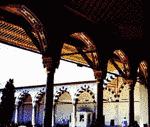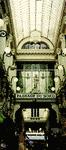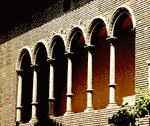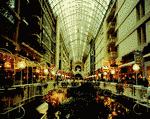 blind arcade
A row of continuous arches applied to a wall and used as a decorative element.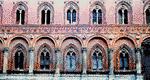 interlaced arcade
An arcade formed by a series of columns supporting arches with overlapping archivolts.
intersecting arcade
Arches resting on alternate supports in one row, meeting on one plane at the crossings.
Illustrated Dictionary of Architecture Copyright © 2012, 2002, 1998 by The McGraw-Hill Companies, Inc. All rights reserved
Arcade
(pop culture)

Arcade, the master escape artist who delights in illusion and has been caught and jailed only on occasion, first appeared in Marvel Team-Up vol. 1 #65 (1978), written by Chris Claremont and drawn by John Byrne. Arcade has told his own backstory, so any details he alleges about his past are questionable. Nevertheless, Arcade, whose real name is unrevealed, insists he was born into a wealthy family in Beverly Hills (or Texas, depending upon the version), growing up with a silver spoon in his mouth. When his father cut him off, Arcade murdered him, amassing his vast fortune. He traveled the world as a hired killer, eventually discovering his real calling as the eccentric host of a chamber of horrors–like amusement park he designed with his robotics and mechanical engineering expertise: Murderworld. With the help of his assistants Miss Locke and Mr. Chambers, Arcane lured his victims into Murderworld, taunting and torturing them in a variety of deathtraps, twisted games, and demented plottings, customized (for the price of $1 million) to exploit the weaknesses of his human targets. The carnival hitman first attempted to outdo Spider- Man and Captain Britain, but has since tried to set up (and take down) almost every major hero in the Marvel Universe, usually in pairs, including Gambit and Wolverine, Colossus and Shadowcat, and Iceman and Angel. He has also battled major hero groups, such as the X-Men and Alpha Flight, and takes particular delight in trying to undo the villainous, including the Green Goblin. A long-running villain still alive and kicking today, Claremont and Byrne created Arcade in the tradition of DC trickster villains like the Toyman, the Trickster, and even the Joker, who turns children's toys into lethal weapons. Arcade's discostyle costume and accoutrements are as intentionally mock-trendy as the Joker's zoot suit was in the 1940s. In the 2000s, Arcade resurfaced in the Ultimate XMen series as a gaming prodigy who invented a firstperson shooter. When the Ultimate Universe version of Longshot was found guilty of murdering a Genoshan politician, he was sentenced to participate in a reality TV show in which he was stranded on an island and hunted by Arcade. Similarly, the animated TV series X-Men: Evolution (2000–2003) reimagined Arcade as a high-school gamer named Webber Torque (who called himself Arcade), tricked by a disguised Mystique into believing that the XMen's mansion security console was an elaborate video game and used it to attack the X-Men, who he believed to be game characters. Despite nearly killing the X-Men, this version of Arcade was not evil, and he apologized for having played the "video game" without permission.

The Supervillain Book: The Evil Side of Comics and Hollywood © 2006 Visible Ink Press®. All rights reserved.
The following article is from The Great Soviet Encyclopedia (1979). It might be outdated or ideologically biased.
Arcade
in architecture, a building in which shops or, less often, offices are arranged in tiers along the sides of a wide passageway, often with a glass roof. Arcades were built for the most part in Europe in the second half of the 19th century. An outstanding example is the Galleria Vittorio Emanuele II in Milan by the architect G. Mengoni.
The Great Soviet Encyclopedia, 3rd Edition (1970-1979). © 2010 The Gale Group, Inc. All rights reserved.
arcade
[

är′kād

]

(architecture)

A series of arches supported on columns.

An arched passageway.

(invertebrate zoology)

A type of cell associated with the pharyngeal region of nematodes and united with like cells by an arch.

McGraw-Hill Dictionary of Scientific & Technical Terms, 6E, Copyright © 2003 by The McGraw-Hill Companies, Inc.
arcade
2. A covered walk with a line of such arches along one or both long sides.
3.
A covered walk with shops and offices along one side, and a line of such arches on the other. Also see
stoa
.
4. A covered walk, lit from the top, lined with shops or offices on one or more levels.
McGraw-Hill Dictionary of Architecture and Construction. Copyright © 2003 by McGraw-Hill Companies, Inc.
Arcade
acquires knowledge of science, loses faith in God, and conspires to take over Heaven for Satan. [Fr. Lit.: The Revolt of the Angels in Magill I, 821]
Allusions—Cultural, Literary, Biblical, and Historical: A Thematic Dictionary. Copyright 2008 The Gale Group, Inc. All rights reserved.
arcade
1. a set of arches and their supporting columns
2. a covered and sometimes arched passageway, usually with shops on one or both sides
3. a building, or part of a building, with an arched roof
Collins Discovery Encyclopedia, 1st edition © HarperCollins Publishers 2005
Arcade
(networking)

A UK

BBS

for the

Acorn Archimedes

. Also has links with Demon Internet.

Telephone: +44 (181) 654 2212 (24hrs, most speeds).

This article is provided by FOLDOC - Free Online Dictionary of Computing (foldoc.org)