architrave
Also found in:
Dictionary
,
Thesaurus
,
Wikipedia
.
architrave
(är`kĭtrāv)

, in architecture, principal beam and lowest member of the classical entablature, the other main members of which are the friezefrieze,
in architecture, the member of an entablature between the architrave and the cornice or any horizontal band used for decorative purposes. In the first type the Doric frieze alternates the metope and the triglyph; that of the other orders is plain or sculptured.
.....

Click the link for more information.

and the cornicecornice
, molded or decorated projection that forms the crowning feature at the top of a building wall or other architectural element; specifically, the uppermost of the three principal members of the classic entablature, hence by extension any similar crowning and projecting
.....

Click the link for more information.

. Its position is directly above the columns, and it extends between them, thus carrying the upper members of the order (see orders of architectureorders of architecture.
In classical tyles of architecture the various columnar types fall, in general, into the five so-called classical orders, which are named Doric, Ionic, Corinthian, Tuscan, and Composite.
.....

Click the link for more information.

). The term also applies to molding around the sides and top of a door or window frame.
Architrave
The lowest of the three divisions of a classical entablature, the main beam spanning from column to column, resting directly on the capitals.
architrave
[

′är·kə'trāv

]

(architecture)

The lowest division of an entablature that rests on the column capital.

The molded band, group of moldings, or other architectural member around an opening, such as a door, especially if rectangular.
architrave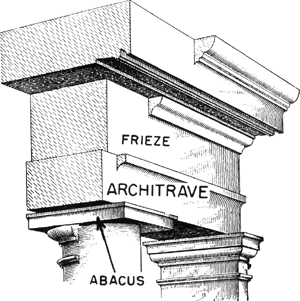 1.
In the classical orders, the lowest member of the entablature; the beam that spans from column to column, resting directly upon their capitals. Also see
order
.
2.
The ornamental moldings around the faces of the jambs and lintel of a doorway or other opening; an
antepagment
.
architrave
Architect
1. the lowest part of an entablature that bears on the columns
2. a moulding around a doorway, window opening, etc.