area of responsibility
Also found in:
Dictionary
,
Acronyms
,
Wikipedia
.
area of responsibility (AOR)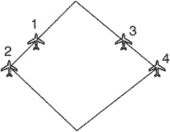 i
. Geographical area within which an alerting service is provided by an ATS (air traffic services) unit designated as the responsible unit.
ii
. In the world area forecast system, a geographical area for which a regional area forecast center prepares significant weather forecasts.
iii
. In aerial tactics, an area assigned to each formation member to scan and report the presence of unidentified aircraft.
An Illustrated Dictionary of Aviation Copyright © 2005 by The McGraw-Hill Companies, Inc. All rights reserved