arena
Also found in:
Dictionary
,
Thesaurus
,
Acronyms
,
Wikipedia
.
arena
Ancient history the central area of an ancient Roman amphitheatre, in which gladiatorial contests and other spectacles were held
Arena
A space of any shape surrounded by seats rising in tiers surrounding a stage; a type of theater without a proscenium.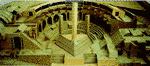 arena
(POLITICAL SOCIOLOGY) any domain of discourse and competition, or of conflict or struggle for political power.
arena
1. An acting space of any shape surrounded by seats.
2. A type of theater not having a proscenium, the spectators" seats, rising in tiers, wholly surrounding the stage.
3. The sanded central area in a Roman amphitheater or circus, surrounded by the seats.
4. Any building, indoor or outdoor, for sports events, etc.