pillar
(redirected from articular pillars)
Also found in:
Dictionary
,
Thesaurus
,
Medical
.
pillar
pillar,
freestanding columnar supporting member. It is a general term, little used as an exact architectural definition except as applied to an upright support in the medieval styles, consisting of an assemblage of juxtaposed shafts and moldings; unlike the column, it does not adhere to the rules of the
orders of architecture
.
The Columbia Electronic Encyclopedia™ Copyright © 2022, Columbia University Press. Licensed from Columbia University Press. All rights reserved.
Pillar
A column or post supporting an arch or other superimposed load. Clustered or compound pillars consist of a central shaft with smaller shafts that are grouped around it.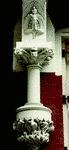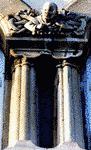 Illustrated Dictionary of Architecture Copyright © 2012, 2002, 1998 by The McGraw-Hill Companies, Inc. All rights reserved
The following article is from The Great Soviet Encyclopedia (1979). It might be outdated or ideologically biased.
Pillar
part of a bed or seam of a mineral that is left untouched when working a deposit in order to support the roof and protect mine excavations and surface structures.
Based on their purposes various types of pillars are distin guished: protective pillars (between levels, above and below drifts, between chambers), which protect objects during mining operations; fire safety pillars, which separate individual parts of the mine field from one another and help contain the fire, should it begin, within small areas; barrier pillars, which prevent surface or subterranean waters, gases, or loose silt from an excavation or unused mine from entering working mines; and support pillars, which prevent the rocks of the roof of the seam or ore body from caving in into an excavated area. The pillar size depends on the mining-geological conditions and the purpose of the pillar and is built according to standard guidelines.
The Great Soviet Encyclopedia, 3rd Edition (1970-1979). © 2010 The Gale Group, Inc. All rights reserved.
pillar
[

′pil·ər

]

(civil engineering)

A column for supporting part of a structure.

(geology)

A natural formation shaped like a pillar.

A joint block produced by columnar jointing.

(mining engineering)

An area of coal or ore left to support the overlying strata or hanging wall in a mine.

McGraw-Hill Dictionary of Scientific & Technical Terms, 6E, Copyright © 2003 by The McGraw-Hill Companies, Inc.
pillar

A column, pier, pilaster, or post that is capable of providing major vertical support.
McGraw-Hill Dictionary of Architecture and Construction. Copyright © 2003 by McGraw-Hill Companies, Inc.
pillar
1. an upright structure of stone, brick, metal, etc., that supports a superstructure or is used for ornamentation
2. a tall, slender, usually sheer rock column, forming a separate top
Collins Discovery Encyclopedia, 1st edition © HarperCollins Publishers 2005