asphalt prepared roofing
Also found in:
Dictionary
,
Thesaurus
.
asphalt prepared roofing, asphaltic felt, cold-process roofing, prepared roofing, rolled roofing, rolled strip roofing, roofing felt, sanded bituminous felt, saturated felt, self-finished roofing felt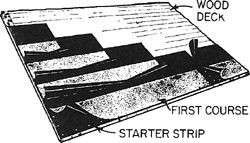 A roofing material manufactured by saturating a dry felt with asphalt and then coating the saturated felt with a harder asphalt mixed with a fine mineral, glass-fiber, asbestos, or organic stabilizer; available in the form of rolls. All or part of the weather side may be covered with mineral granules or with powdered talc or mica. The reverse side is covered with a material suitable to prevent sticking in the roll. The
McGraw-Hill Dictionary of Architecture and Construction. Copyright © 2003 by McGraw-Hill Companies, Inc.