Most
(redirected from at most)
Also found in:
Dictionary
,
Thesaurus
,
Medical
,
Idioms
.
Most
(môst)

, Ger. Brüx, city (1991 pop. 70,670), NW Czech Republic, in Bohemia, near the German border. It is a railway junction and industrial city in a lignite-mining area. Chemicals, steel, and ceramics are the major products of Most. The city, whose history dates at least to the 11th cent., has several medieval churches and an old town hall. The city was relocated in the 1960s due to an expansion of the coalfields.
Most
a city in Czechoslovakia, located in the North Bohemia region of the Czech Socialist Republic on the Bílina River. Population, 55,900 (1971). Railroad junction. A major brown coal mining center of the North Bohemian basin. A coal-related chemistry combine operates there and electrometallurgy is carried on. A thermal electric power plant is also located in Most.
The discovery and development of brown coal deposits beneath the old quarter of the city led to construction of the new portion of the city nearby. Most was one of the centers of the workers' movement in bourgeois Czechoslovakia; especially significant was the Most strike of 1932.
MOST
(Media Oriented Systems Transport) An in-vehicle, ring-based digital network for up to 64 A/V devices from the MOST Coopertion standards organization. Widely used, MOST supports fiber, unshielded twisted pair and coax cables at speeds of 25, 50 and 150 Mbps. Specifications for all seven layers of the network stack (layers 1 through 7) are provided.

MOST devices include a video display, CD/DVD player, security system, digital radio, integrated cellphone, microphone, amplifier, speakers and GPS navigation. See automotive systems and automotive Ethernet.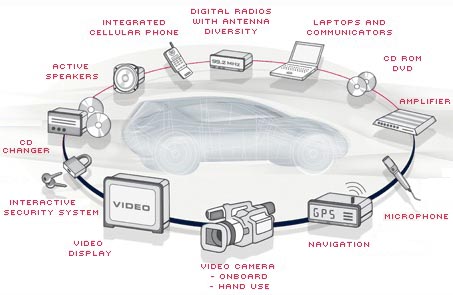 MOST Transport Network
The MOST network connects a variety of A/V devices in a vehicle. (Image courtesy of MOST Cooperation, www.mostcooperation.com)