atrium
(redirected from atrium of the ear)
Also found in:
Dictionary
,
Thesaurus
,
Medical
.
atrium
atrium
(āˈtrēəm)
, term for an interior court in Roman domestic architecture and also for a type of entrance court in early Christian churches. The Roman atrium was an unroofed or partially roofed area with rooms opening from it. In early times its center held a cooking hearth. After the 2d cent. B.C., when the hearth was placed elsewhere, the center of the atrium held a tank (impluvium) to receive rainwater falling through the opening, which also furnished light to the surrounding rooms. In more luxurious and complex Roman dwellings, the private apartments had a court of their own, called the peristyle, and the atrium served merely as a semipublic reception hall. The ruins of Pompeii contain remains of atria in their various forms. In early Christian churches, the atrium was a large arcaded or colonnaded open court, serving as a general meeting place, in front of the church itself, with a fountain used for ablutions in its center. The basilican churches of Sant'Ambrogio in Milan and San Clemente in Rome have noteworthy atria. This type of large forecourt is also a characteristic element of the Muslim mosque. The term also refers to a modern building's central court, an often soaring interior space with a large skylight. Creating a flood of natural light and usually filled with plants, the feature has become practically ubiquitous in contemporary architecture; it is used predominantly in commercial buildings.
The Columbia Electronic Encyclopedia™ Copyright © 2022, Columbia University Press. Licensed from Columbia University Press. All rights reserved.
Atrium
The forecourt of an early Christian basilica, with colonnades on all four sides, and usually a fountain in the center. It was derived from the entrance court or hall of a Roman dwelling, roofed to leave a large opening to admit light. Rain was received in a cistern below. The modern version is a common vertical space with skylights in an office or hotel complex.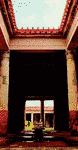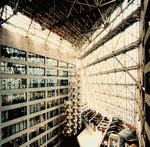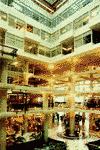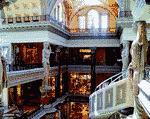 Illustrated Dictionary of Architecture Copyright © 2012, 2002, 1998 by The McGraw-Hill Companies, Inc. All rights reserved
atrium
[

′ā·trē·əm

]

(anatomy)

The heart chamber that receives blood from the veins.

The main part of the tympanic cavity, below the malleus.

The external chamber to receive water from the gills in lancelets and tunicates.

(architecture)

An open court located within a building.

McGraw-Hill Dictionary of Scientific & Technical Terms, 6E, Copyright © 2003 by The McGraw-Hill Companies, Inc.
atrium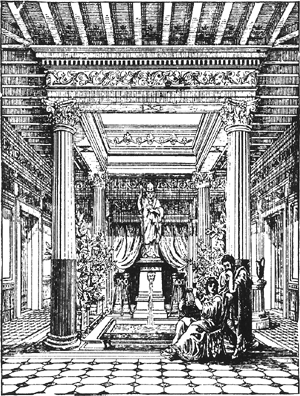 1.. The main hall of an ancient Roman house, containing an opening to the sky
McGraw-Hill Dictionary of Architecture and Construction. Copyright © 2003 by McGraw-Hill Companies, Inc.
atrium
1. the open main court of a Roman house
2. a central often glass-roofed hall that extends through several storeys in a building, such as a shopping centre or hotel
3. a court in front of an early Christian or medieval church, esp one flanked by colonnades
4. Anatomy a cavity or chamber in the body, esp the upper chamber of each half of the heart
Collins Discovery Encyclopedia, 1st edition © HarperCollins Publishers 2005