axonometric projection
Also found in:
Dictionary
,
Wikipedia
.
axonometric projection
[

¦ak·sə·nō¦me·trik prə′jek·shən

]

(graphic arts)

A drawing that shows an object's inclined position with respect to the planes of projection. Also known as isometric projection.
axonometric projection
The orthographic projection of a three-dimensional object inclined to the picture plane in such a way that its three principal axes can be drawn to scale but diagonal and curved lines appear distorted.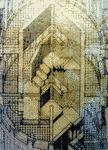 See also: Projection drawing
axonometric projection
A form of orthographic projection in which a rectangular object, projected on a plane, shows three faces. One of two general divisions of pictorial projection (the other being oblique projection); often divided into three types: isometric, dimetric and trimetric.