back-pressure valve
Also found in:
Dictionary
,
Medical
.
back-pressure valve
[

′bak 'presh·ər 'valv

]

(petroleum engineering)

A check valve installed in a natural-gas well bore to shut off gas flow while replacing the blowout preventer (used during drilling) with a christmas tree piping arrangement, which controls gas flow out of the completed well.
check valve, back-pressure valve, reflux valve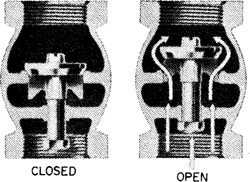 An automatic valve which permits liquid to flow in only one direction. Also see
non-return valve
.