baffle
Also found in:
Dictionary
,
Thesaurus
,
Medical
,
Financial
,
Wikipedia
.
baffle
a plate or mechanical device designed to restrain or regulate the flow of a fluid, the emission of light or sound, or the distribution of sound, esp in a loudspeaker or microphone
Baffle
an installation in the afterbay of an overflow dam that changes the direction of the flow and spreads the width of the water stream when only some of the spillway apertures in the dam are functioning. The basic purpose of a baffle is to ensure a fairly uniform distribution of the flow velocities and to reduce them on the downstream apron. A distinction is made between a ramp baffle (continuous or slotted), which is installed along the entire width of the water apron, and a baffle formed of piers, which is placed at an angle to the water stream.
baffle
[

′baf·əl

]

(electricity)

Device for deflecting oil or gas in a circuit breaker.

(electronics)

An auxiliary member in a gas tube used, for example, to control the flow of mercury particles or deionize the mercury following conduction.

(engineering)

A plate that regulates the flow of a fluid, as in a steam-boiler flue or a gasoline muffler.

(engineering acoustics)

A cabinet or partition used with a loudspeaker to reduce interaction between sound waves produced simultaneously by the two surfaces of the diaphragm.
baffle
1. A plate used to control the flow of a liquid.
2. An opaque or translucent plate used to shield a light source from direct view at certain angles; a light baffle.
3. A flat deflector or obstruction designed to reduce sound transmission.
4. A plate that retards and/or changes the direction of the flow of air, air-gas mixtures, or flue gases.
baffle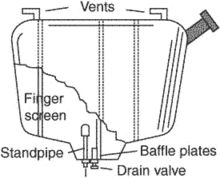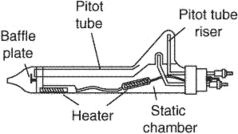 i
. A series of partitions in a fuel tank to control the rapid flow of fuel and prevent its sloshing. These partitions have holes that allow the fuel to feed to the tank outlet, but they keep the fuel from surging enough to uncover the fuel outlet.
ii
. A partition separating the upper portion of the tank that prevents oil pump cavitation as oil tends to rush to the top of the tank during deceleration periods. The baffle is fitted with a weighted swirl outlet control valve that is free to swing below the baffle. The valve closes when oil at the bottom of the tank rushes up when the aircraft decelerates.
iii
. A sheet metal shield used to direct the flow of air between and around the cylinders of an air-cooled reciprocating engine.
iv
. A partial partition in the pitot system to trap moisture and any solid matter as well as to reduce turbulence.