Ball Valve
(redirected from ball valves)
Also found in:
Dictionary
,
Thesaurus
,
Medical
.
ball valve
[

′bȯl 'valv

]

(mechanical engineering)

A valve in which the fluid flow is regulated by a ball moving relative to a spherical socket as a result of fluid pressure and the weight of the ball.
Ball Valve
a valve in which the seal is effected by a ball. The spherical surface of the ball is pressed against a conical seat that forms the transmission path of a pipe, thus providing a hermetic seal in the channel. Globular check valves—a type of ball valve—are very common. The ball in such valves is pressed against the seat by the action of a spring or by the ball's own weight (in the latter case, the seat axis is vertical); the mechanism allows a gas or liquid to flow only in one direction when the pressure of the flow overcomes the force created by the spring or weight of the ball. Globular check valves with solid metal balls are used for inside diameters up to 15 mm; similar valves with hollow, rubber-coated balls are used for inside diameters up to 100 mm. Valves with balls that have a through hole are used as shut-off and regulating devices for inside diameters up to 1,000 mm. Such valves are opened and closed by rotation of the ball through 90°.
ball valve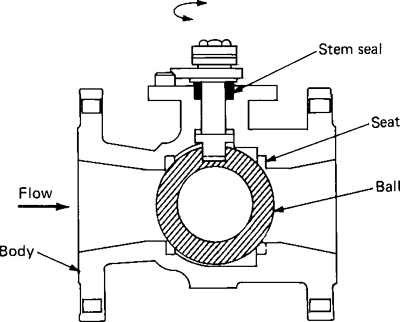 A valve for regulating the flow of fluids by a movable ball which fits in a spherical seat.