balun
Also found in:
Dictionary
,
Thesaurus
,
Acronyms
,
Wikipedia
.
Balun
a device in the antenna-feeder line of a radio transmitter or receiver that matches an unbalanced feeder with a balanced feeder or antenna, or a balanced feeder with an unbalanced antenna. Baluns are principally used at meter and decameter wavelengths.

At decamenter wavelengths baluns are most often composed of elements that have lumped parameters, such as capacitors, inductance coils, and transformers, and form, for example, single- and multiple-section electric filters (Figure 1,a; see page 26). At meter wavelengths baluns are composed of elements having distributed parameters forming, for example, a quarter-wave sleeve (Figure 1,b), a U-bend (Figure 1,c), or a coaxial-slot coupling (Figure l,d). All such baluns operate in a narrow frequency band; in order to widen the frequency band, various devices, consisting of short-circuited and open-ended stubs, are used to compensate for the mismatch (Figure l,e). Transformer baluns with ferrite cores are often used in feeder lines that carry moderate power (up to 10 kilowatts).
REFERENCES
Aizenberg, G. Z. Antenny ul'trakorotkikh voln [part 1]. Moscow, 1957.
Lavrov, G. A., and A. S. Kniazev. Prizemnye i podzemnye antenny. Moscow, 1965.
Drabkin, A. L., V. L. Zuzenko, and A. G. Kislov. Antenno-fidernye ustroistva, 2nd ed. Moscow, 1974.

G. A. KLIGER and V. I. KOMISSAROV
balun
[

′ba'lən

]

(electricity)

A device used for matching an unbalanced coaxial transmission line or system to a balanced two-wire line or system. Also known as balanced converter; bazooka; line-balance converter.
balun
(electronics)

A transformer connected between a balanced source or load and an unbalanced source or load. A balanced line has two conductors, with equal currents in opposite directions. The unbalanced line has just one conductor; the current in it returns via a common ground or earth path.
balun
(BALanced UNbalanced) An adapter that connects a balanced line to an unbalanced line such as from XLR to RCA. A balanced line is one in which both wires are electrically equal. In an unbalanced line, such as a coax, one line has different properties from the other. See XLR connector and RCA connector.




RCA to XLR
This balun might be used to wire RCA outputs on a preamp to XLR inputs on an amplifier. (Image courtesy of CableCreation, www.cablecreation.com)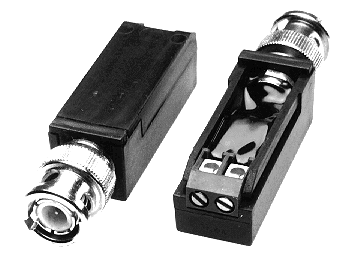 Twisted Pair to BNC
This balun enables a balanced twisted pair of wires to plug into an unbalanced BNC jack. The screw connectors (right) connect the two wires. (Image courtesy of Black Box Corporation, www.blackbox.com.)