barrage
(redirected from barraging)
Also found in:
Dictionary
,
Thesaurus
.
barrage
1. a usually gated construction, similar to a low dam, across a watercourse, esp one to increase the depth of water to assist navigation or irrigation
2. Fencing a heat or series of bouts in a competition
Collins Discovery Encyclopedia, 1st edition © HarperCollins Publishers 2005
The following article is from The Great Soviet Encyclopedia (1979). It might be outdated or ideologically biased.
Barrage
a type of artillery fire used to repulse attacks and counterattacks by enemy infantry and tanks; it is applied suddenly and without warning to lines (or sectors) outlined in advance and is usually ranged. Barrages are divided into frontal and flanking fire, according to their direction relative to the front of friendly units. Remoteness of the closest edge of the barrage from friendly units that are hot sheltered guarantees their safety. The depth of barrage sectors usually reaches 150–200 m. When the enemy leaves the barrage sector, the fire is switched to the next line. Barrages may be used by antiaircraft artillery and antiaircraft machine guns to destroy aerial targets.
---
Barrage
a hydroengineering regulating structure designed for the partial or complete damming of secondary river branches in order to increase the flow rate in the main channel. Barrages are used in mountain streams to decrease bottom slopes (underwater gradients) and to halt stream channel erosion. Barrages are constructed in the form of rock-fill walls, fascines, or gabions.
The Great Soviet Encyclopedia, 3rd Edition (1970-1979). © 2010 The Gale Group, Inc. All rights reserved.
barrage
[

bə′räzh

]

(civil engineering)

An artificial dam which increases the depth of water of a river or watercourse, or diverts it into a channel for navigation or irrigation.

(ordnance)

A prearranged barrier of fire designed to protect friendly troops and installations by impeding enemy movement across defensive lines or areas.

McGraw-Hill Dictionary of Scientific & Technical Terms, 6E, Copyright © 2003 by The McGraw-Hill Companies, Inc.
barrage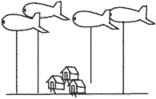 i
. A protective screen of balloons that are moored to the ground and kept at varying heights to prevent or hinder operations by low-flying enemy aircraft. See
balloon barrage
ii
. A type of electronic attack intended for simultaneous jamming over a wide range of frequencies. Also called
barrage jamming
.
iii
. An area where concentrated anti-aircraft fire is directed, thus creating a barrage.
An Illustrated Dictionary of Aviation Copyright © 2005 by The McGraw-Hill Companies, Inc. All rights reserved