Barricade
(redirected from barricader)
Also found in:
Dictionary
,
Thesaurus
,
Medical
,
Idioms
.
barricade
[

′bar·ə'kād

]

(engineering)

Structure composed essentially of concrete, earth, metal, or wood, or any combination thereof, and so constructed as to reduce or confine the blast effect and fragmentation of an explosion.

McGraw-Hill Dictionary of Scientific & Technical Terms, 6E, Copyright © 2003 by The McGraw-Hill Companies, Inc.
The following article is from The Great Soviet Encyclopedia (1979). It might be outdated or ideologically biased.
Barricade
an artificial obstacle of logs, sandbags, rocks, trees, and other materials at hand piled up across streets, roads, near bridges, on mountain passes, and so on. Barricades were used in the 13th and 14th centuries in the defense of Moscow, Riazan', Vladimir, and other cities from the Mongol-Tatar hordes, in 1611 during the defense of Moscow from Polish invaders, and in the 17th and 18th centuries during the peasant wars led by Stepan Razin and Emel'ian Pugachev. Barricades were widely used during uprisings of the proletariat in Paris in 1827, 1830,1832, and 1834; in Brussels in 1830; in Lyon in 1834; in Prague and Berlin in 1848; and in Dresden in 1849. During the Paris Commune of 1871 bitter battles were fought on the barricades.
During the 1905 Revolution and the Great October Socialist Revolution in Russia the people in revolt used barricades widely in the fight against the tsarist troops. They were built on many streets of Moscow. During the Civil War of 1918–20 and the Great Patriotic War of 1941–45, barricades were built during the conduct of combat operations for certain cities.
The Great Soviet Encyclopedia, 3rd Edition (1970-1979). © 2010 The Gale Group, Inc. All rights reserved.
barricade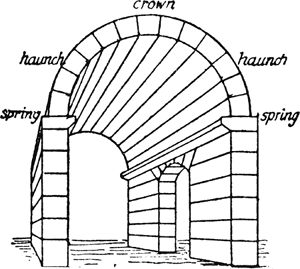 An obstruction to deter the passage of persons or vehicles.
McGraw-Hill Dictionary of Architecture and Construction. Copyright © 2003 by McGraw-Hill Companies, Inc.