bastard-sawn
?
Note: This page may contain content that is offensive or inappropriate for some readers.
plain-sawn, bastard-sawn, flat-grained, flat-sawn, slash-sawn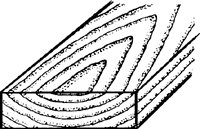 Descriptive of wood sawn so that the annual rings intersect the wide face at an angle of less than 45°.
McGraw-Hill Dictionary of Architecture and Construction. Copyright © 2003 by McGraw-Hill Companies, Inc.