batteries
Also found in:
Dictionary
,
Thesaurus
,
Medical
,
Legal
,
Financial
,
Idioms
.
batteries
Following is a summary of the characteristics of popular battery technologies. For more details, see solid state battery, lead acid, nickel cadmium, nickel metal hydride, lithium ion, lithium polymer, liquid metal battery, zinc air, CMOS battery and memory effect.


 CHARACTERISTICS OF RECHARGEABLE BATTERIESSelf                   Recharge         Dis-         Energy    Cycles    Fast   charge         Density   To 80%   Charge  Per Type    (Wh/Kg)*  Capacity  (hrs)  Month

 Solid
  State    400-500   1500     1-5     5%

 Nickel
  Cadmium   45-80    1500     1      20%

 Nickel Metal
  Hydride   60-120  300-500   2-4    30%

 Lithium
  Ion      110-160  300-500   2-4    10%

 Lithium
  Polymer  100-130  300-500   2-4    10%

 Lead Acid   30-50  200-300   8-16    5%

                    To 50%     Capacity
 Reusable
  Alkaline    80      50      2-3    0.3%


  Data courtesy of
  Cadex Electronics Inc. (www.cadex.com).

  * Wh/Kg = watt hours per kilogram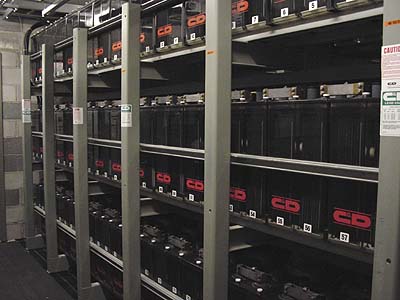 A Lot of Batteries
This roomful of lead acid batteries stands ready to drain itself entirely in less than a minute. It serves as interim power for a large datacenter between the time a power outage has been detected and the generators can come up to full speed.
Copyright © 1981-2019 by The Computer Language Company Inc. All Rights reserved. THIS DEFINITION IS FOR PERSONAL USE ONLY. All other reproduction is strictly prohibited without permission from the publisher.