Battlement
(redirected from battlemented)
Also found in:
Dictionary
,
Thesaurus
.
battlement, embattlement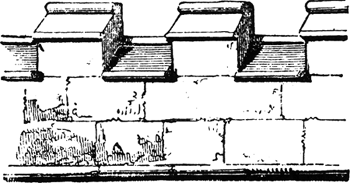 1. A fortified parapet with alternate solid parts and openings, termed respectively "merlons" and "embrasures" or "crenels" (hence crenelation). Generally for defense, but employed also as a decorative motif.
2. A roof or platform serving as battle post.
3. A decorative motif having the general shape of a battlement.