Minor
(redirected from be in the minority)
Also found in:
Dictionary
,
Thesaurus
,
Medical
,
Legal
,
Financial
,
Idioms
.
minor
1. Law below the age of legal majority
2.
Music
a. (of a scale) having a semitone between the second and third and fifth and sixth degrees (natural minor)
b. (of a key) based on the minor scale
c. denoting a specified key based on the minor scale
d. (of an interval) reduced by a semitone from the major
e. (of a chord, esp a triad) having a minor third above the root
f. (esp in jazz) of or relating to a chord built upon a minor triad and containing a minor seventh
3. Logic (of a term or premise) having less generality or scope than another term or proposition
4. US education of or relating to an additional secondary subject taken by a student
5. Bell-ringing of, relating to, or denoting a set of changes rung on six bells
6. a person below the age of legal majority
7. US and Canadian education a subsidiary subject in which a college or university student needs fewer credits than in his or her major
8. Music a minor key, chord, mode, or scale
9. Logic a minor term or premise
10.
Maths
a. a determinant associated with a particular element of a given determinant and formed by removing the row and column containing that element
b. the number equal to this reduced determinant
Collins Discovery Encyclopedia, 1st edition © HarperCollins Publishers 2005
The following article is from The Great Soviet Encyclopedia (1979). It might be outdated or ideologically biased.
Minor
a determinant consisting of elements at the intersection of arbitrarily selected k rows and k columns of a matrix. Thus, the determinant

is a second-order minor of the matrix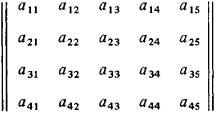 consisting of all of the elements of the matrix at the intersection of the first and fourth rows and second and third columns.
---
Minor
a mode based on the small (minor) triad with its distinctive coloring (mood).
As a triad that does not coincide with the lower tones on the natural scale, and as a mode constructed from this triad, the minor has a dark coloring in sound that is the opposite of the major. The contrast of major and minor is one of the most important aesthetic contrasts in music.
The Great Soviet Encyclopedia, 3rd Edition (1970-1979). © 2010 The Gale Group, Inc. All rights reserved.
minor
[

′mīn·ər

]

(mathematics)

The minor of an entry of a matrix is the determinant of the matrix obtained by removing the row and column containing the entry. Also known as cofactor; complementary minor.

McGraw-Hill Dictionary of Scientific & Technical Terms, 6E, Copyright © 2003 by The McGraw-Hill Companies, Inc.