beam-climber guidance
beam-climber guidance
[

′bēm 'klī·mər ¦gī·dəns

]

(navigation)

McGraw-Hill Dictionary of Scientific & Technical Terms, 6E, Copyright © 2003 by The McGraw-Hill Companies, Inc.
beam-rider guidance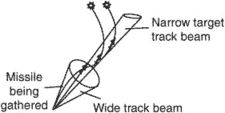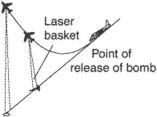 A guidance system in which the equipment aboard the missile enables it to sense its location relative to a radar beam and correct its course, seeking out and following the path made by a radar beam. The missile is gathered in the beam and is guided onto the target continuously by the radar beam locked onto the target. Also called
beam-climber guidance
.
An Illustrated Dictionary of Aviation Copyright © 2005 by The McGraw-Hill Companies, Inc. All rights reserved