bestiary
(redirected from beast epic)
Also found in:
Dictionary
,
Thesaurus
,
Wikipedia
.
bestiary
bestiary
(bĕsˈchēĕrˌē)
, a type of medieval book that was widely popular, particularly from the 12th to 14th cent. The bestiary presumed to describe the animals of the world and to show what human traits they severally exemplify. The bestiaries are the source of a bewildering array of fabulous beasts and of many misconceptions of real ones. They were the artist's guide to animal symbolism in religious building, painting, and sculpture.
Physiologus
(the naturalist), an ancient work of the type, was probably the chief source of the bestiaries. A Middle English version is translated in J. L. Weston,
The Chief Middle English Poets
(1914). Variations of the genre remain popular. Modern authors who have written bestiaries include Lewis Carroll, James Thurber, T. H. White, and Jorge Luis Borges.
Bibliography
See W. Clark and M. McMunn, Beasts and Birds of the Middle Ages (1989).
The Columbia Electronic Encyclopedia™ Copyright © 2022, Columbia University Press. Licensed from Columbia University Press. All rights reserved.
bestiary
A collection of medieval allegorical fables about animals, each with an interpretation of its significance to good or evil; in medieval churches, a group of highly imaginative and symbolic carved creatures.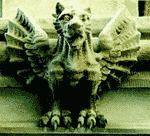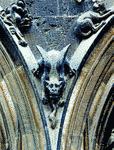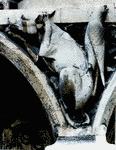 See also: Ornament

Illustrated Dictionary of Architecture Copyright © 2012, 2002, 1998 by The McGraw-Hill Companies, Inc. All rights reserved
bestiary
In a medieval church, a group of carved or painted creatures, often highly imaginative and symbolic.
McGraw-Hill Dictionary of Architecture and Construction. Copyright © 2003 by McGraw-Hill Companies, Inc.
bestiary
a moralizing medieval collection of descriptions of real and mythical animals
Collins Discovery Encyclopedia, 1st edition © HarperCollins Publishers 2005