Punch
(redirected from beat to the punch)
Also found in:
Dictionary
,
Thesaurus
,
Medical
,
Idioms
.
punch
1
1. a tool or machine for piercing holes in a material
2. any of various tools used for knocking a bolt, rivet, etc., out of a hole
3. a tool or machine used for stamping a design on something or shaping it by impact
4. the solid die of a punching machine for cutting, stamping, or shaping material
5. Computing a device, such as a card punch or tape punch, used for making holes in a card or paper tape
---
punch
2
any mixed drink containing fruit juice and, usually, alcoholic liquor, generally hot and spiced
Collins Discovery Encyclopedia, 1st edition © HarperCollins Publishers 2005
The following article is from The Great Soviet Encyclopedia (1979). It might be outdated or ideologically biased.
Punch
in data processing systems, a device for punching holes in, for example, paper or cinematographic film in order to record information. Punches for paper tape are often called perforators. The most common punches are designed to record numeric, alphabetic, and alphanumeric data on punched tape or cards. Punches differ in purpose, output, design of drive and punching mechanisms, and methods of control. The punching rates range from a few dozen punches a second in card punches to several hundred in tape punches. The components of a punch include the punching mechanism proper, the drive mechanism with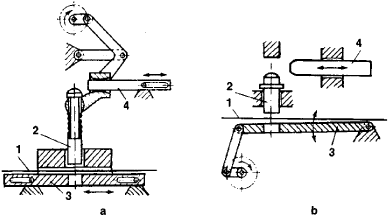 manual (key) or automatic control, a keyboard or input converter of electrical signals into the code according to which the punching is done, and a feed mechanism for the recording medium. The chief parts of the punching mechanism (see Figure 1) are the punch pins (usually round or rectangular in cross section), matrices with holes for the punch pins, and a blocking pawl to prevent punching. A punch may be driven by mechanical, electromagnetic, pneumatic, or hydraulic means. Also often classed as punches are auxiliary devices such as ticket punchers and spot punches, used to correct data on punched cards and tapes.
REFERENCES
Schetno-perforatsionnye mashiny. Moscow, 1965.
Anisimov, B. V., and K. S. Khomiakov. Ustroistva podgotovki dannykh dlia elektronnykh vychislitel'nykh mashin. Moscow, 1972.
---
Punch
(shortened from Punchinello, a distortion of the Italian Pulcinella), a character in the English folk puppet theater. Introduced in England by Italian puppeteers in 1662, Punch eventually became a permanent jester's mask in the puppet theater. Since the end of the 18th century, Punch—as a hand puppet-has been the central figure of a puppet show. As a rule, he embodies the anarchic revolt of the lower classes against the feudal-bourgeois establishment, thus winning popularity with the viewers.
REFERENCE
Speaight, G. The History of the English Puppet Theatre. London, 1955.
---
Punch
a tool resembling a nail that is used for engraving on metal. The blunt end of the punch is struck against the plate and forms indentations of various sizes and shapes.
---
Punch
(1) In metalworking, one of the basic parts in machines used for stamping and extrusion. In stamping, the punch exerts direct pressure on the metal being worked; depending on the purpose, the operation may be classified as piercing, perforating, slugging, or blanking. In extrusion, the punch transmits pressure through the dummy block to the billet being extruded through the die. Punches are subjected to high mechanical loads and, in case of hot-working processes, to thermal loads. For this reason, punches used in cold-working processes are fabricated from high-strength steel with a greater depth of hardening; punches for hot-working processes are fabricated from wear-resistant steel with higher strength at temperatures of deformation.
(2) In printing, a steel slug of rectangular cross section having a letter, symbol, or similar item in relief, used to make intaglios in the production of dies.
The Great Soviet Encyclopedia, 3rd Edition (1970-1979). © 2010 The Gale Group, Inc. All rights reserved.
punch
[

pənch

]

(computer science)

A device for making holes representing information in a medium such as cards or paper tape, in response to signals sent to it.

A hole in a medium such as a card or paper tape, generally made in an array with other holes (or lack of holes) to represent information.

(design engineering)

(mechanical engineering)

A tool that forces metal into a die for extrusion or similar operations.

McGraw-Hill Dictionary of Scientific & Technical Terms, 6E, Copyright © 2003 by The McGraw-Hill Companies, Inc.
punch
1. A small sharply pointed metal tool which is struck with a hammer and used for centering, marking, or starting holes.
2. A steel driving tool with a sharpened edge, used to cut holes in sheet metal.
McGraw-Hill Dictionary of Architecture and Construction. Copyright © 2003 by McGraw-Hill Companies, Inc.