Hollow
(redirected from beating hollow)
Also found in:
Dictionary
,
Thesaurus
,
Medical
.
hollow
[

′häl·ō

]

(science and technology)

Having a concave surface.

Having an interior cavity.
What does it mean when you dream about something hollow?
Something that is hollow retains the outer form, but is missing the core, the substance. A dream about a hollow object can reflect a feeling that despite the fact that everything is outwardly okay, something essential is missing.
cavetto, gorge, hollow, throat, trochilus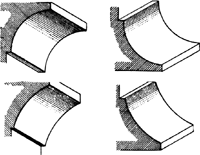 A hollow member or round concave molding containing at least the quadrant of a circle, used in cornices and between the tori of bases, etc. Erroneously called
scotia
, which has a noncircular curvature.