hop
(redirected from been hopped up)
Also found in:
Dictionary
,
Thesaurus
.
hop,
herbaceous perennial vine of the family Moraceae (mulberrymulberry,
common name for the Moraceae, a family of deciduous or evergreen trees and shrubs, often climbing, mostly of pantropical distribution, and characterized by milky sap. Several genera bear edible fruit, e.g.
.....

Click the link for more information.

family), widely cultivated since early times for brewing purposes. The commercial hop (Humulus lupulus) is native to Eurasia but is now grown in many temperate regions, notably England, Germany, the United States, South America, and Australia. The conelike mature female flowers, called hops, are borne on different plants from the male; their loose scales contain lupulin, a yellow resinous powder that is added to beer to impart a bitter flavor and is used medicinally as a tonic and soporific. Oil of hops is used for some perfumes, and the hop stem is used for fiber. The fruit of the unrelated hop tree (Ptelea trifoliata) of North America is occasionally used as a substitute for hops. Hops are classified in the division MagnoliophytaMagnoliophyta
, division of the plant kingdom consisting of those organisms commonly called the flowering plants, or angiosperms. The angiosperms have leaves, stems, and roots, and vascular, or conducting, tissue (xylem and phloem).
.....

Click the link for more information.

, class Magnoliopsida, order Urticales, family Moraceae.

The Columbia Electronic Encyclopedia™ Copyright © 2013, Columbia University Press. Licensed from Columbia University Press. All rights reserved.

www.cc.columbia.edu/cu/cup/
hop
[

häp

]

(botany)

Humulus lupulus. A dioecious liana of the order Urticales distinguished by herbaceous vines produced from a perennial crown; the inflorescence, a catkin, of the female plant is used commercially for beer production.

(communications)

A single reflection of a radio wave from the ionosphere back to the earth in traveling from one point to another.

McGraw-Hill Dictionary of Scientific & Technical Terms, 6E, Copyright © 2003 by The McGraw-Hill Companies, Inc.
hop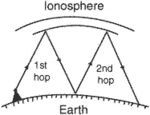 i
. The travel of a radio wave to the ionosphere and back to earth. The number of hops a radio signal has experienced is usually designated by the expression "one hop," "two hop," "multihop," etc. The number of hops is called the
order of reflection
.
ii
. A very short flight.
iii
. As used in electronic warfare, a jump from one EM (electromagnetic) frequency to another by an ECCM (electronic counter-countermeasures) subsystem.
An Illustrated Dictionary of Aviation Copyright © 2005 by The McGraw-Hill Companies, Inc. All rights reserved
hop
1
Old-fashioned informal a dance, esp one at which popular music is played
---
hop
2
Obsolete slang opium or any other narcotic drug
---
hop
3
1. any climbing plant of the N temperate genus Humulus, esp H. lupulus, which has green conelike female flowers and clusters of small male flowers: family Cannabiaceae (or Cannabidaceae)
2. hop garden a field of hops
Collins Discovery Encyclopedia, 1st edition © HarperCollins Publishers 2005
hop
(messaging)

One point-to-point transmission in a series required to get a message from point A to point B on a

store and forward

network. On such networks (including

UUCPNET

and

FidoNet

), an important inter-machine metric is the hop count of the shortest path between them. This can be more significant than their geographical separation.

Each

exclamation mark

in a

bang path

represents one hop.
hop
(networking)

One direct host-to-host connection forming part of the route between two hosts in a

routed network

such as the

Internet

. Some protocols place an upper limit on the hop count in order to detect routing loops.
hop
(jargon, networking)

This article is provided by FOLDOC - Free Online Dictionary of Computing (foldoc.org)