behind the power curve
Also found in:
Dictionary
,
Thesaurus
,
Medical
.
back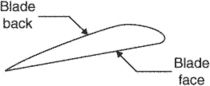 i
. The curved surface of a propeller blade. It corresponds to the upper surface of the airplane's wing. Also called a
blade back
.
ii
. The back of the power curve, where any decrease in speed results in a disproportional increase in drag. A stage may be reached when even with full power the aircraft may continue to sink. Also referred to as
behind the power curve
and
backside of the power curve
.
iii
. The top part or the upper surface area of an airplane, especially of an airplane's fuselage, referred to in such contexts as "to fly on its back."
iv
. The back seat (rear cockpit) of a two-seater combat or trainer aircraft.
v
. The changing of wind direction in the anti-clock-wise direction. When the wind direction changes in the anticlock-wise direction, it is called
backing
when the change is clock-wise, it is called
veering
.
An Illustrated Dictionary of Aviation Copyright © 2005 by The McGraw-Hill Companies, Inc. All rights reserved