key
(redirected from being keyed up)
Also found in:
Dictionary
,
Thesaurus
,
Medical
,
Legal
,
Idioms
.
key
, in music

key. 1

In music, term used to indicate the

scale

from which the tonal material of a given composition is derived. To say, for example, that a composition is in the key of C major means that it uses as its basic tonal material the tones of that scale which is associated with C major, and that its harmony employs the chords built on the tones of that scale. C is then the keynote, and the C major triad, or the notes CEG, the tonic chord of the composition. In addition to the seven tones of the C major scale, however, the remaining five tones of the chromatic scale may appear as auxiliary tones, and chords may be borrowed from other keys.

Modulation

to another key may take place, but if there is a return to the original key the whole composition is said to be in the key of C. At the beginning of a composition, its key is usually indicated by a key signature (see

musical notation

). A term usually used synonymously with key is

tonality

. Absence of a feeling of key is called

atonality

. The concept of keynotes was developed gradually during the 16th and 17th cent. and its partial or total abandonment was a feature of the modernism of the early and mid-20th cent. Polytonality, the employment of two or more keys simultaneously, has been used by some 20th-century composers.

2

Also in music, in reference to musical instruments the term

key

refers to a lever depressed by the player's finger or, in the case of the pedal keyboard of the organ, the foot. In woodwind instruments the keys control covers on the holes that shorten the vibrating column of air. In brass winds they control the valves that lower the pitch of the instrument by lengthening the tube.

The Columbia Electronic Encyclopedia™ Copyright © 2022, Columbia University Press. Licensed from Columbia University Press. All rights reserved.
Key
A tapered or wedge-shaped piece that locks pieces of timber together.
Illustrated Dictionary of Architecture Copyright © 2012, 2002, 1998 by The McGraw-Hill Companies, Inc. All rights reserved
What does it mean when you dream about a key?
Keys can symbolize having a secret. They can also represent "locking away" one's inner feelings. The holder of the key has the power to unlock whatever the dreamer needs.
The Dream Encyclopedia, Second Edition © 2009 Visible Ink Press®. All rights reserved.
key
[

kē

]

(building construction)

Plastering that is forced between laths to secure the rest of the plaster in place.

The roughening on a surface to be glued or plastered to increase adhesiveness.

(civil engineering)

A projecting portion that serves to prevent movement of parts at a construction joint.

(computer science)

A data item that serves to uniquely identify a data record.

(design engineering)

An instrument that is inserted into a lock to operate the bolt.

A device used to move in some manner in order to secure or tighten.

One of the levers of a keyboard.

(electricity)

A hand-operated switch used for transmitting code signals. Also known as signaling key.

A special lever-type switch used for opening or closing a circuit only as long as the handle is depressed. Also known as switching key.

(engineering)

The pieces of core causing a block in a core barrel, the removal of which allows the rest of the core in the barrel to slide out.

(geology)

A cay, especially one of the islets off the south of Florida. Also spelled kay.

(petroleum engineering)

A hooklike wrench fitted to the square of a sucker rod to pull and run each sucker rod of a pumping oil well.

(systematics)

An arrangement of the distinguishing features of a taxonomic group to serve as a guide for establishing relationships and names of unidentified members of the group.

McGraw-Hill Dictionary of Scientific & Technical Terms, 6E, Copyright © 2003 by The McGraw-Hill Companies, Inc.
key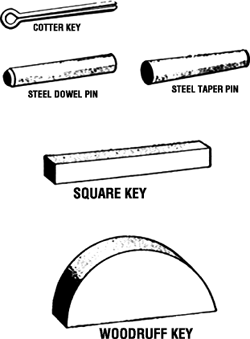 1. A wedge which passes through a hole in a projecting tenon to secure its hold.
2. A piece of metal or wood which is inserted in a joint to prevent movement between adjacent surfaces.
3. A piece inserted in the back of a board to prevent warping.
4. The last board in a series of floorboards, tapering in shape, and serving to hold the others in place when driven home.
5. The property of a material that facilitates the bonding of another material to it.
6. The roughening on the underside of veneer or similar material to assist it in holding glue.
7. The roughened surface on the back of tile or the like to assist it in holding mortar.
8. In plastering or similar work, that part of the plastic material that is forced between and enters the holes in (or clings to the roughened surface of) the backing lath.
10. A groove cut in a surface into which fits a corresponding projection from a member above, as a keyed footing.
11. A detachable metal instrument which operates a lock; it is inserted into the lock and moves a bolt, latch, or catch.
McGraw-Hill Dictionary of Architecture and Construction. Copyright © 2003 by McGraw-Hill Companies, Inc.
key
attribute of the personified Fidelity. [Art: Hall, 184]
Allusions—Cultural, Literary, Biblical, and Historical: A Thematic Dictionary. Copyright 2008 The Gale Group, Inc. All rights reserved.
key
1. a metal instrument, usually of a specifically contoured shape, that is made to fit a lock and, when rotated, operates the lock's mechanism
2. any instrument that is rotated to operate a valve, clock winding mechanism, etc.
3. a small metal peg or wedge inserted into keyways
4. any of a set of levers operating a typewriter, computer, etc.
5. any of the visible parts of the lever mechanism of a musical keyboard instrument that when depressed set in motion the action that causes the instrument to sound
6.
a. any of the 24 major and minor diatonic scales considered as a corpus of notes upon which a piece of music draws for its tonal framework
b. the main tonal centre in an extended composition
c. the tonic of a major or minor scale
7. Biology a systematic list of taxonomic characteristics, used to identify animals or plants
8. Photog Painting the dominant tonal value and colour intensity of a picture
9.
Electrical engineering
a. a hand-operated device for opening or closing a circuit or for switching circuits
b. a hand-operated switch that is pressed to transmit coded signals, esp Morse code
10. Railways a wooden wedge placed between a rail and a chair to keep the rail firmly in place
11. Botany any dry winged fruit, esp that of the ash
12. Photog determining the tonal value of a photograph
Collins Discovery Encyclopedia, 1st edition © HarperCollins Publishers 2005
key
(database)

A value used to identify a

record

in a database, derived by applying some fixed function to the record. The key is often simply one of the

fields

(a

column

if the database is considered as a table with records being rows, see "

key field

"). Alternatively the key may be obtained by applying some function, e.g. a

hash function

, to one or more of the fields. The set of keys for all records forms an

index

. Multiple indexes may be built for one database depending on how it is to be searched.
key
(cryptography)

A value which must be fed into the

algorithm

used to decode an encrypted message in order to reproduce the original plain text. Some encryption schemes use the same (secret) key to encrypt and decrypt a message, but public key encryption uses a "private" (secret) key and a "public" key which is known by all parties.
key
(hardware)

This article is provided by FOLDOC - Free Online Dictionary of Computing (foldoc.org)
key
(1) (Qi) See Qi wireless charging.

(2) A keyboard button. See QWERTY keyboard.

(3) A numeric code that is used with an encryption algorithm to encrypt text for security purposes. See key length, key space, cryptography and salt.

(4) An essential field in a database record. See key field and sort key.

(5) Amazon's door entry system for package delivery. See Amazon Key.

(6) A physical generation identification. See keyed.

Copyright © 1981-2019 by The Computer Language Company Inc. All Rights reserved. THIS DEFINITION IS FOR PERSONAL USE ONLY. All other reproduction is strictly prohibited without permission from the publisher.
Key
(dreams)

As with most dreams, look for the obvious connections by comparing the details or the theme of your dream to your daily life. Are you trying to figure something out and "unlock" a puzzling question? Do you wish to hide something? Are you locking something up or are you opening the door? Last, but not least, does this dream have any sexual connotations?

Bedside Dream Dictionary by Silvana Amar Copyright © 2007 by Skyhorse Publishing, Inc.