stack
(redirected from being stacked in favor)
Also found in:
Dictionary
,
Thesaurus
,
Medical
,
Financial
.
stack
1. a number of aircraft circling an airport at different altitudes, awaiting their signal to land
2. Brit a measure of coal or wood equal to 108 cubic feet
3. a high column of rock, esp one isolated from the mainland by the erosive action of the sea
4. an area in a computer memory for temporary storage
Collins Discovery Encyclopedia, 1st edition © HarperCollins Publishers 2005
The following article is from The Great Soviet Encyclopedia (1979). It might be outdated or ideologically biased.
Stack
a rounded mass of compactly piled hay or straw (sometimes in sheaves). A stack is 5–7 m high and has a base circumference of 12–20 m.
The Great Soviet Encyclopedia, 3rd Edition (1970-1979). © 2010 The Gale Group, Inc. All rights reserved.
stack
[

stak

]

(building construction)

The portion of a chimney rising above the roof.

(chemical engineering)

In gas works, a row of benches containing retorts.

(computer science)

A portion of a computer memory used to temporarily hold information, organized as a linear list for which all insertions and deletions, and usually all accesses, are made at one end of the list.

(electronics)

(engineering)

To stand and rack drill rods in a drill tripod or derrick.

Any structure or part thereof that contains a flue or flues for the discharge of gases.

One or more filter cartridges mounted on a single column.

Tall, vertical conduit (such as smokestack, flue) for venting of combustion or evaporation products or gaseous process wastes.

The exhaust pipe of an internal combustion engine.

(geology)

An erosional, coastal landform that is a steep-sided, pillarlike rocky island or mass that has been detached by wave action from a shore made up of cliffs; applies particularly to a stack that is columnar in structure and has horizontal stratifications. Also known as marine stack; rank.

(metallurgy)

The cone-shaped section of a blast furnace or cupola above the hearth and melting zone and extending to the throat.

(navigation)

To assign different altitudes by radio to aircraft awaiting their turns to land at an airport.

McGraw-Hill Dictionary of Scientific & Technical Terms, 6E, Copyright © 2003 by The McGraw-Hill Companies, Inc.
stack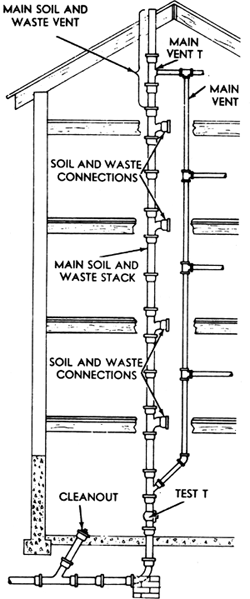 1. Any vertical pipe, such as a soil pipe, waste pipe, vent, or leader stack.
2. Such pipes, collectively.
3. Any structure or part thereof
McGraw-Hill Dictionary of Architecture and Construction. Copyright © 2003 by McGraw-Hill Companies, Inc.
stack

A number of aircraft holding over a point but at different flight levels. An aircraft may be asked to hold in a stack.
An Illustrated Dictionary of Aviation Copyright © 2005 by The McGraw-Hill Companies, Inc. All rights reserved
stack
(programming)

(See below for synonyms) A data structure for storing items which are to be accessed in last-in first-out order.

The operations on a stack are to create a new stack, to "push" a new item onto the top of a stack and to "pop" the top item off. Error conditions are raised by attempts to pop an empty stack or to push an item onto a stack which has no room for further items (because of its implementation).

Most processors include support for stacks in their instruction set architectures. Perhaps the most common use of stacks is to store

subroutine

arguments and return addresses. This is usually supported at the

machine code

level either directly by "jump to subroutine" and "return from subroutine" instructions or by auto-increment and auto-decrement addressing modes, or both. These allow a contiguous area of memory to be set aside for use as a stack and use either a special-purpose

register

or a general purpose register, chosen by the user, as a

stack pointer

.

The use of a stack allows subroutines to be

recursive

since each call can have its own calling context, represented by a stack frame or

activation record

. There are many other uses. The programming language

Forth

uses a data stack in place of variables when possible.

Although a stack may be considered an

object

by users, implementations of the object and its access details differ. For example, a stack may be either ascending (top of stack is at highest address) or descending. It may also be "full" (the stack pointer points at the top of stack) or "empty" (the stack pointer points just past the top of stack, where the next element would be pushed). The full/empty terminology is used in the

Acorn Risc Machine

and possibly elsewhere.

In a list-based or

functional language

, a stack might be implemented as a

linked list

where a new stack is an empty list, push adds a new element to the head of the list and pop splits the list into its head (the popped element) and tail (the stack in its modified form).

At

MIT

,

pdl

used to be a more common synonym for stack, and this may still be true.

Knuth

("The Art of Computer Programming", second edition, vol. 1, p. 236) says:

Many people who realised the importance of stacks and queues independently have given other names to these structures: stacks have been called push-down lists, reversion storages, cellars, dumps, nesting stores, piles, last-in first-out ("LIFO") lists, and even yo-yo lists!

This article is provided by FOLDOC - Free Online Dictionary of Computing (foldoc.org)
stack
(1) In a network, a hierarchy of software layers in both clients and servers that are required to communicate with each other. See protocol stack and OSI model.

(2) The set of programs used in the computer. A stack can refer to software infrastructure only (see software stack) or to the applications the company gives its employees (see application stack). It may also refer to an industry set or a developer set of programs. For example, the phrase "they don't offer a complete stack" could imply that a software company has an incomplete set of applications for a particular industry or niche.

(3) A set of hardware registers or a reserved amount of memory used for arithmetic calculations, local variables or to keep track of internal operations (the sequence of routines called in a program). For example, one routine calls another, which calls another and so on. As each routine is completed, the computer returns control to the calling routine all the way back to the first one that started the sequence. Stacks used in this way are LIFO based: the last item, or address, placed (pushed) onto the stack is the first item removed (popped) from the stack.

Stacks are also used to hold interrupts until they can be serviced. Used in this manner, they are FIFO stacks, in which the first item onto the stack is the first one out of the stack.

It Can Be "The" Programming Language
An entire programming language can be stack based; for example, Bitcoin's Script is entirely stack based and embedded in its transactions (see Bitcoin transaction). See internal stack failure, stack dump and stack fault.

(4) Various functions in a Mac (see Stacks and Hypercard).

Copyright © 1981-2019 by The Computer Language Company Inc. All Rights reserved. THIS DEFINITION IS FOR PERSONAL USE ONLY. All other reproduction is strictly prohibited without permission from the publisher.