bellows
Also found in:
Dictionary
,
Thesaurus
,
Medical
,
Idioms
,
Wikipedia
.
bellows
bellows, expansible, gas-tight chamber used to pump or store a gas. One of the simplest and most familiar types of bellows is the manual one used for providing a forced draft to a fire. The expansible chamber consists of a leather bag with pleated sides. The bag is fixed between handles in such a way that they can be used to make it expand and contract. The inlet and outlet vents are provided with valves so that air must enter through the first and leave through the second. The device thus comprises a simple air pump. One of the major uses of the bellows has been to provide a draft for fires that are used to help extract a metal from its ore. In a device such as an aneroid barometer a small bellows is filled with a known amount of gas that expands and contracts in response to changes in external pressure. This small bellows is coupled to some form of indicating or recording device. Another use of the bellows has been to provide wind for such musical instruments as the accordion and older pipe organs.
The Columbia Electronic Encyclopedia™ Copyright © 2022, Columbia University Press. Licensed from Columbia University Press. All rights reserved.
bellows
[

′bel·ōz

]

(engineering)

A mechanism that expands and contracts, or has a rising and falling top, to suck in air through a valve and blow it out through a tube.

Any of several types of enclosures which have accordionlike walls, allowing one to vary the volume.

(optics)

An accordionlike component of a camera which forms a passage between the lens and the film and allows one to vary the distance between them.

McGraw-Hill Dictionary of Scientific & Technical Terms, 6E, Copyright © 2003 by The McGraw-Hill Companies, Inc.
bellows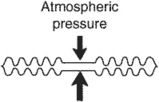 Devices used for measuring pressure. They are circular corrugated metal capsules, which
are either evacuated or filled with an inert gas. As the pressure changes, the bellows either contract or expand, and this expansion/contraction is converted into a circular motion providing an indication of the change in pressure.
An Illustrated Dictionary of Aviation Copyright © 2005 by The McGraw-Hill Companies, Inc. All rights reserved
bellows
1. an instrument consisting of an air chamber with flexible sides or end, a means of compressing it, an inlet valve, and a constricted outlet that is used to create a stream of air, as for producing a draught for a fire or for sounding organ pipes
2. Photog a telescopic light-tight sleeve, connecting the lens system of some cameras to the body of the instrument
3. a flexible corrugated element used as an expansion joint, pump, or means of transmitting axial motion
Collins Discovery Encyclopedia, 1st edition © HarperCollins Publishers 2005